Yo! Everypawdy!
So ya know how Shelby, the most beautiful Pawtite Princess, has her 'lil Red Wagon? Well, as of December 25th the OP has their very own 'lil Red Jeep (aka the Off Road Safari)! Duuuude, did we have fun in round one–the OP v. the 'lil Red Jeep! Behold the documentary evidence as we get Down and Dirty on our Off Road Safari!
CR had to jump right in at the start and REGULATE, she just can't help herself…..She dared us all to get near the 'lil Red Jeep.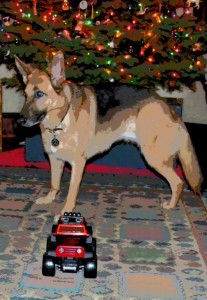 Ooops, Smokey got a little too close……..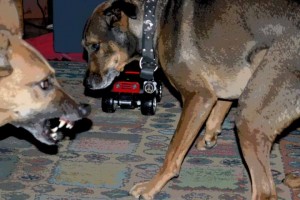 Then Austin slipped in while she was distracted and got a good bite on that thang!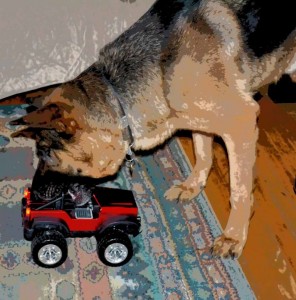 Sensing the potential for ripped ears, blood on the Christmas tree, and the untimely demise of the 'lil Red Jeep, Pops corralled Codie and Austin and shut 'em up in the back room. It was up to me 'n Smokey B. to take it out!
We thought maybe we could BARK it to death!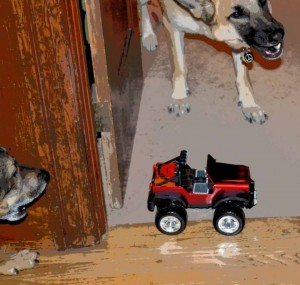 That din't work so I made a big move, with a swift chomp to the roll bar…..take THAT Off Road Safari!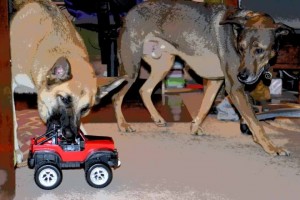 Then Smokey B. got his knickers all in a twist and snarked at me to get away, HE was gonna take care of it!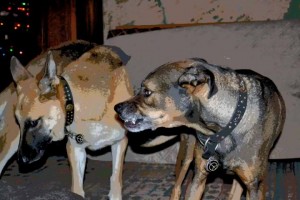 You know me, Ima big chikin, so I let him take the lead…..and he POUNCED!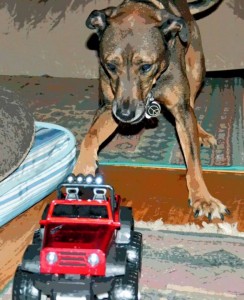 'K end o' Round 1: OP Meets 'lil Red Jeep…..who's hurtin' now!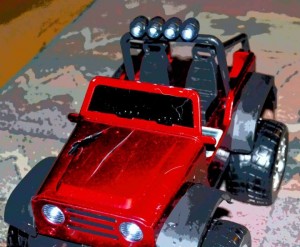 Note the hole and the big crack in the hood. Still running like nowpawdy's bidness tho so there is mos' def gonna be a round 2! Stay tooned !
Hoppy Howlidays and Merry New Year youse guys!
xoxoxo,
Travis Ray