Hey Everypawdy,
I am hijacking Travis' blog today with more devastating news from the OP. We sent Austin Ray on at high noon on Friday the 17th. Given he was a 10 or 11 year old tripawd GSD he was doing OK until last October, when he developed vestibular disease. Many times it clears up within a short period of time and never recurs. Unfortunately, after 6 weeks of improvement, Austin's recurred and never really went away again. He would get a little better, only to decline again. He had a permanent head tilt (cute, until you remembered why), his one back leg totally gave out on him, and recently his front end basically gave out as well. Lately his spark just really seemed to dim. Although he still enjoyed riding in the truck and in his stroller, and he still loved his food and treats, he was …. less than enthusiastic. And he was just tired–sometimes he slept so hard we could barely get him to wake up. He became semi-incontinent. We finally really got that he just wasn't going to improve again and his quality of life was suffering, so we made the call to let him go. It was so hard to contemplate, it just felt unbearable given the vast amount of pain and suffering going on throughout the world right now. But it was the right and only thing to do.
Austin was the dog no one wanted. Once upon a time someone cared enough about him to pay for an amputation but he then somehow ended up on the streets. When he was picked up by animal control he was emaciated and had severe yeast and staph infections. His rear amp was floppy–they hardly left any muscle! He was a trainwreck.  We fostered him for a year, got him healed up and tried hard to find him a loving home. Turns out that home was destined to be ours. So we bought him a Paco collar and welcomed him into the pack.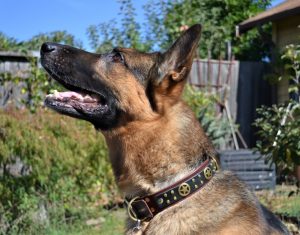 Austin Ray was hands down the sweetest member of the Oaktown Pack. He was our take anywhere no surprises dog. He loved all people, especially kids, and most especially little Mexican girls.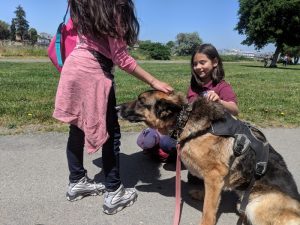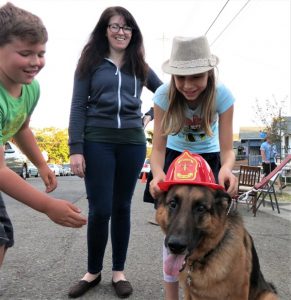 Austin got along with all dogs but took no guff from anyone, not even Codie Rae! Austin ran for Mayor, he was on tv, he represented the OP at our local Tripawds parties, he represented Tripawds at fundraising events large and small.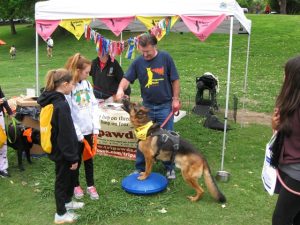 He traveled the West, he chased balls and swam and chewed on his purple squirrel dudes. In spite of his physical issues he was never mean, he never complained, and he never let life get him down.
Run free sweet boy, whole and strong. You will always be our inspiration.
xoxo,
Martha, Ralph, and Travis Ray