Yo Everypawdy!
Today was the BIG DAY and it was MOST pawesome! NorCal Tripawds RULE! Oh YESH they DO! For all youse that didn't show up…..here's the low down………
Mom counted 12 tripawds!!!! Its an all time record (we think…). Lylee, Shelby, Me 'n Austin, Ellie, Ruby, and Cemil. And THEN 5, count 'em 5 dawgs showed up cause the event made the paper a couple weeks ago! Thanks to Rene and Jim for sending out the PR! Mom din't get most of their names 'cept for Sadie and Rosie. Bernie and Linda and their pawrents, John and Diane came all the way from San Diego! And Karen brought Tani and Obie–whoa are they pugalicious! And Spirit Cherry's folks showed up too! Mom din't bring her camera but she din't need to 'cause there were photographers everywhere (stay toooned—this was the best documented tripawd event EVER!) And the PRESS showed up, whatever that is. There will be an article tomorrow in the Marin Independent Journal, whatever that is. And my most awesome pawesome Carla was there with the GOODS! Dawg a mighty! There was BACON CAKE!!!!!! And it had Jerry on it!!!! And pupperoni pizzas and 'lil mints for our sore tummies after eatin' all a that!  And cute 'lil doggie bags for everyone to take home. Look what was in 'em!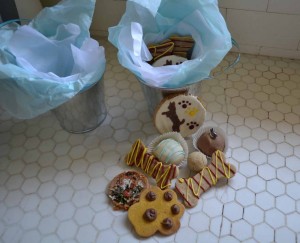 Sooooooo goooood. We are all in a foodie coma 'round here right 'bout now.  I know everypawdy will be postin' some pix from the day soon! You'll get to see the cake and all the beautiful pups and peeps! My mom sez to say it was SO grrrrrreat seein' so many tripawds in one place and all their fabulous pawrents–such good peeples! Woohoo! We LOVE YOU ALL!
xoxoxox,
Travis Ray